Summer means...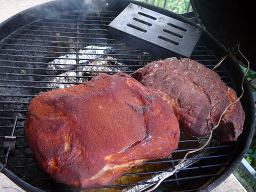 GRILLING!
We cooked up a pork shoulder, shown here about halfway through twelve hours of cooking slow and low, and soaking up a mix of mesquite and hickory smoke. Some got sliced, the rest got pulled and sauced for sandwiches. It seemed a waste to have so much empty space on the grill, so a chuck roast also ended up on there to get smoky too, before being seared and sous-vided for later meals. Once it came off, on went sausages and baked beans.
If you've never done offset smoking on a normal grill and want to try, or just want to up your grill game, we recommend paying "Meathead" Goldwyn a visit over at
Amazing Ribs
. By following his excellent guides and recipes, we've been consistently turning out simply amazing food, even on the first try. Have a napkin ready, his site will make you drool. A lot.
What are you cooking up this summer? Send pictures and a description, and we'll feature them!